Over 100 years of innovation in electric drive
We're spoiled for choice today for eBikes, there's something for everyone! Whether you're keen to take an adventure, want to ease up some hills, or are looking to improve your fitness, there is bound to be an eBike to suit your needs. But how did we get here? Let's take a brief look at the history of eBikes.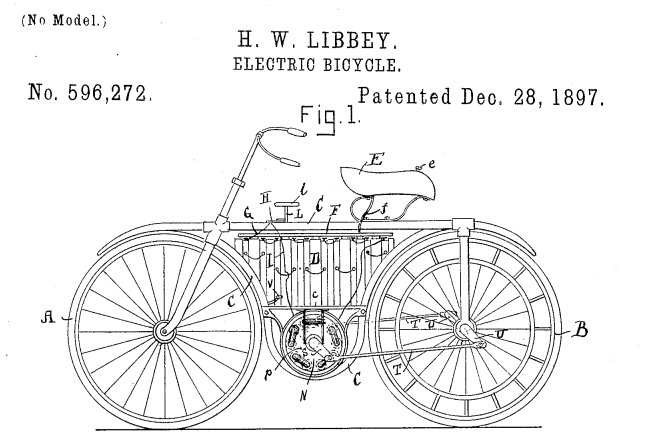 Source: Hosea W. Libbey Electric Bicycle (US Patent 596272), 1897

Beginnings
The earliest record of an eBike was in 1895 in a patent by a French inventor. Many recorded models at this time consisted of a bike frame without pedals, and a lever-controlled motor. The earliest patent filings at this time were from Ogden Bolton ( 1895), whose model had its motor situated at the rear wheel; US inventor Horsea Libbey (1897), whose design utilized a double electric motor; and John Schnepf (1899), whose invention integrated an electric motor with roller wheels. These very ear years, many eBike patents were filed, however due to innovations in the automobile industry many of these patents were discarded, resulting in little progress.
1900-19 89
Following this, there was little innovation for many years in the field of eBikes, and further production was very quiet. In 1975 Panasonic ventured into eBikes; however, the success of new products was hindered by the technology available at the time, especially the battery options. Models were dependant on lead-acid and NiCad batteries, both of which are notorious for their heavy weight and inefficiency. Due to this, eBikes were less convenient than typical bikes and not a viable alternative.
Resurgence
It wasn't until 1989, over 100 years after the first eBike patent was filed, that the field saw new and important innovations. This was when the first Pedelec was invented by Michael Kutter. The Pedelec utilizes the rider's pedaling and triggers the motor to work in conjunction with the rider, paving the way for the eBikes that we know and use today. This technology allowed for riders to integrate their pedaling power with the motor and to ride their electric bike comparable to their regular bike. In 1992, Kutter made these Pedelec models available for purchase. There was also further innovation moving towards lighter and higher capacity lithium-ion batteries, adding further ease to the e-cycling experience.
Where are we now?
There have been many further innovations in the field of eBikes, such as power controls, torque sensors, motor improvements, and accessories.
eBikes have transformed cycling accessibility, as they tend to be less physically demanding than traditional bikes, and therefore have allowed for greater inclusivity when it comes to making environmentally conscious transport choices. away from fossil fuels.
These benefits extend into the commercial world thanks to the increased take-up of eCargo solutions for last-mile deliveries, revolutionizing the transport and logistics industry.
Bafang has fine-tuned a range of solutions for all different kinds of riders to enjoy the benefits of electric assist, in applications like eMTB , eRoad , eTour , eCity , eCargo and eFat . Different components employ different technologies and capabilities to, suit a var such as battery range, overall weight, torque, display type, interface and price points.
What about your ideas? What exciting features do you think eBikes might have next? Let us know on our social channels!