Did you spot the final Bafang giveaway of 2022? The Bafang Giveaway Trail | Stage 3 offered the chance to WIN a brand-new e-bike worth up to €3000. The Giveaway is now closed.
Prizes engineered to make you smile
In the spirit of our latest giveaway, we've caught up with two of our previous winners to find out what they got up to on their Bafang-powered e-bikes, and how it felt to win! Tracey and Patrick won an Alpek and American Eagle eMTB respectively, and took to the mountains of Wales and the Netherlands for adventure and exploration.
Want the chance to join them as official Bafang winners? Enter our latest giveaway, here . Act fast, entry closes on January 6, 2023.
Patrick: Winner 2019
In 2019, Patrick was the winner of an E-agle, American Eagle's flagship eMTB and the iconic bike ridden by Bart Brentjens' CST PostNL Bafang Mountainbike Racing Team. As a seasoned mountain biker based in the Netherlands, Patrick was no stranger to forest trails , however, this was his first e-bike experience! We caught up with him earlier this year to hear what he thought of his prize.
Team Bafang : How's the bike been?
Patrick : It was the most amazing thing I've ever won, it's a brilliant machine and I never trusted that I would say this, but I love e-bikes now! I would have never thought about having an eMTB as e-bikes are still being seen by others as cheating. But for me it's the opposite, it's something where I can get evenly tired as I get on an MTB as I do on an e-bike. It's all about the amount of effort you put in in the end.
Team Bafang : That's great to hear, do you think the mindset is changing on e-bikes being 'cheating'?
Patrick : Not really. I'm involved in a lot of online discussions in this as I now have the viewpoint of a traditional biker and a new e-biker. I try to convince people that it's not cheating, it's what you do as a biker that defines that. But for the curious bikers, a lot of them are not easy to convince.
Team Bafang : How would you change their mind?
Patrick : Once you have experienced it, it will definitely change your mindset. Experience an e-bike once and you're lost forever because it's FUN. For me, the fun factor is ten times better than with a regular bike.
Team Bafang : Why is that?
Patrick : Because there's no fun in climbing, all the fun is in the downhill. When you have an e-bike the uphill is easy, and the downhill is more fun. Especially when you go out in a group, some guys hit an uphill really fast and if I try to catch up on a normal bike it pushes me to the edge. With an e-bike, I can catch up to them easily, or leave them behind.
I'm proud of the bike, really. It's such a beautiful thing to have, and to ride!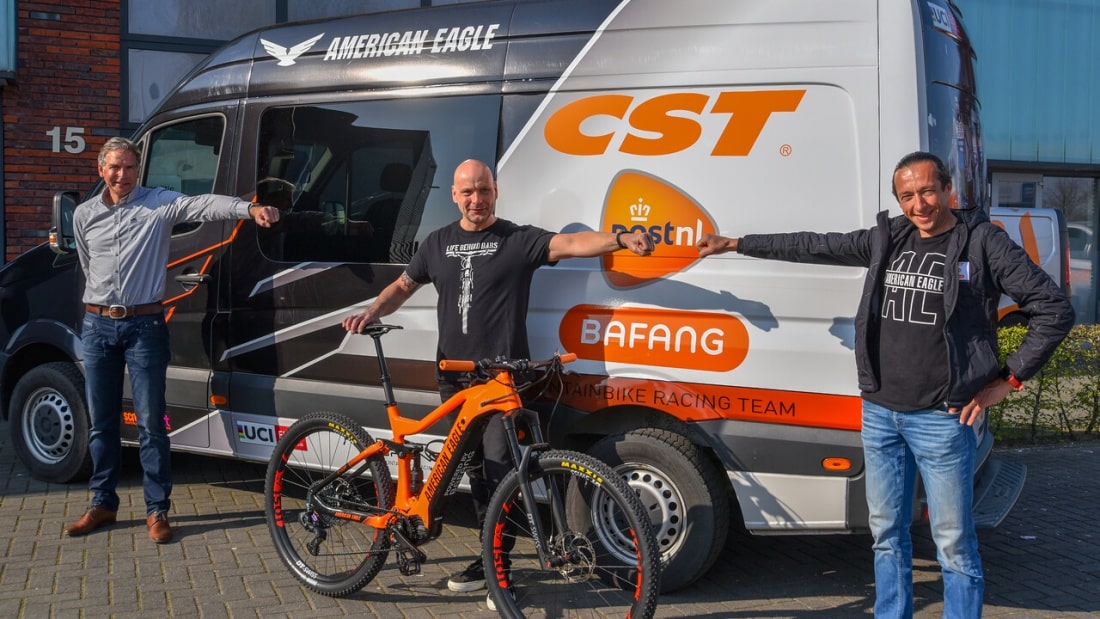 Tracey: Winner 2021
Last year, Tracey won an Alpek Evoke eMTB. We've been reminiscing about how excited she was to win a new e-bike! One of our team members headed to north Wales in the UK to gift the bike in person…
Team Bafang : So, Tracey, how do you feel now you've got your bike?
Tracey : Oh I'm absolutely thrilled, thank you very much to Bafang for giving me this opportunity. It's just a wonderful, fun little bike, I'm so excited to be able to use it and ride it around the countryside in beautiful north Wales here, so I'm just going to go off exploring as soon as I can, really!
Team Bafang : So where do you plan to take it first?
Tracey : We like to go around the Snowdonia National Park a lot, so will probably go up there around the mountains up there. We've also got some local mountains just a mile up the road, some nice trails that we tend to walk on , so the other half can take the dog and I can ride along now, so that'll be great!
Team Bafang : Fantastic, that's great, so you're looking forward to a bit of open air and some nice outdoor adventures?
Tracey : That's it, we've got some nice bike trails around here, so really looking forward to it. When I actually got the email that said I'd won, I had to check about 10 times because I couldn't quite believe it, it's one of those where you think is it real or not, so you have to pinch yourself. And then obviously I got the follow-up emails from yourself, and it all came true!
Team Bafang : That's fantastic, we're so pleased that we could make your dream come true!